List of Quests
Main Quests 
Main Page: ( Main Quests ) (Main Quest Descriptions etc.}
---
Side Quests
Main Page: ( Side Quests ) (Side Quest Description Etc. )
---
Class/Job Quests
Level 1 - 10
Recommended Level
Level 1 - 10 Job Quests
Level 10

Level 10

Do You Want to Be A Sorcerer?
Stia's Test (1) - 3:00 mins
Stia's Test (2) - kill Wind Spirit
Stia's Test (3) - 3:00mins
Stia's Final Test
Way of the Sorcerer
Enraged Lucy - WIzard
---
Guardian Demeter: Awakening
Guardian Hoenheim: Covenant
Guardian Hoenheim: Growth
Guardian Hoenheim: Awakening
Guardian Vulcan: Covenant
Guardian Vulcan: Growth
Guardian Vulcan: Awakening
Guardian Beriel: Covenant
Guardian Beriel: Growth
Guardian Beriel: Awakening
Merchant of Alberta
Bandit Wildrose
Knight Commander's Summon
Knightage Test
Wild Q-Pang (1)
Wild Q-Pang (2)
Wild Q-Pang (3)
Qualifications of a Knight (2)
---
Daily Quests
Daily quests are available from South Plain onwards. It can be otained from List Boards that can be found from each map. They are similar to Monster Buster quests but give more reward. The best part is, it's free.
Recommended Level
Daily Quests
Level 13

Request: Outlaw of the Carrot Field
Request: The Ecosystem's Destructive Culprit
Request: To Train the Pecos

Level 20

Request: A Trend in Cooking
Request: The Culprit Behind the Vandalized Walls
Request: Rare Mushroom Monster Extermination

Level 27

Request: Collect Miho Jade Ornaments
Requeset: Material for Perpetual Fire
Request: Snake Heaven
---
Union Quests
---
Repeatable Quests List
Chance Coupons(2)
Chance Coupons(10)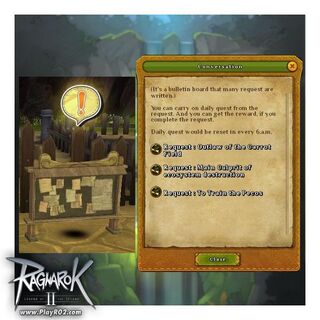 Monster Buster Quest
Main Page: (Monster Buster )
Ad blocker interference detected!
Wikia is a free-to-use site that makes money from advertising. We have a modified experience for viewers using ad blockers

Wikia is not accessible if you've made further modifications. Remove the custom ad blocker rule(s) and the page will load as expected.